Hotel Accommodations
Holiday Inn University of Memphis
The closest location for conference attendees to stay is either the Holiday Inn University of Memphis which is conveniently located across the street from the FedEx Institute of Technology – The University of Memphis campus where the MNVC is held. Rooms are available for attendees. Please mention "MNV" when booking your room.
---
The Peabody 
Within walking distance from iconic Beale Street, the landmark Peabody Hotel is known as the "South's Grand Hotel" with its grand, marble-columned lobby. In 1933 ducks were placed in the hotel's lobby fountain, setting in motion an 80-year tradition that continues today with the famous "March of the Peabody Ducks" daily at 11am and 5pm.
The MNVC Mixer that is held on Monday night is located at The Corner Bar inside the Peabody lobby.
---
The Westin Memphis Beale Street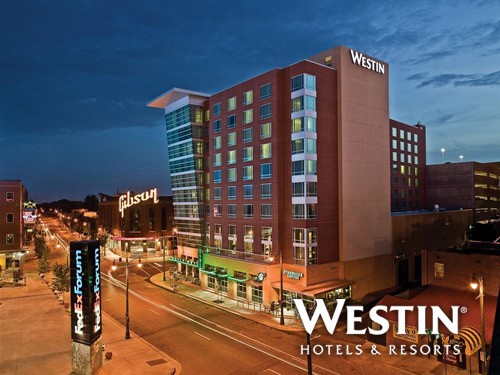 If you are seeking to experience Memphis – the "Home of the Blues" & the birthplace of Rock'n Roll – The Westin Memphis Beale Street will be the perfect hotel for you. The Westin is located just steps from historic Beale Street.
For Westin Memphis Beale Street reservations, please call 1-800-937-8461. We do not have a special rate this year but our Shuttle Service will be providing transportation from the Westin to the FedEx Institute Conference Center.
The Westin Memphis Beale Street, 170 Lt. George W. Lee Ave., Memphis, TN
---
Shuttle Service
We offer a Shuttle Service between the hotels, venues and airport. Click here to learn more about our Shuttle Service.