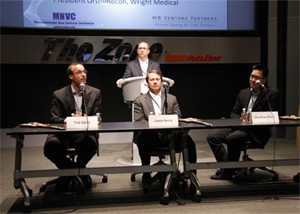 From the Memphis Business Journal, Oct 21, 2015 —
The 13th Musculoskeletal New Ventures Conference — held at the FedEx Institute of Technology — will showcase 22 promising medical device startups from Tuesday, Nov. 3, to Wednesday, Nov. 4.
But the event will also address two of the most important issues for medical device startups: raising capital and the regulatory environment.
Gary Stevenson, managing partner of MB Venture Partners, the conference's longtime host, said the panel discussions will cover the complicated environment companies face for product approval from the U.S. Food & Drug Administration and the decline in capital invested in medical device companies over the last five years.
"It's probably at historic lows," Stevenson said of capital investment. "Biotech has been hot, but there's no tax on them. Corporate investors have had to fill in the gaps to some extent that us venture capital firms have left."
Between more strict FDA guidelines for product approval, the 2.3 percent excise tax on medical devices and issues with reimbursements for new devices, Stevenson says that major device industry players like Medtronic are waiting longer to acquire new technology.
"They're more excited about technologies that have proven themselves through sales," Stevenson said. "In 2008, the spine industry was very frothy, and companies were making acquisitions of companies that hadn't been approved yet."
Stevenson says one thing he hopes startups learn at the conference is the importance of building a business as opposed to planning to be acquired by a larger corporation.
Meanwhile, companies such as Medtronic and Wright Medical have completed mergers with Covidien and Tornier N.V., respectively. Medtronic moved its headquarters to Ireland, where Covidien is based, a move widely seen as a way to avoid the excise tax.
"We tell every company we've invested in to keep their heads down, build a business and make sure it's self-sustainable, so you're not relying on anyone to bail you out," Stevenson says. "The big companies have taken their eyes off the ball of acquisition of smaller companies. We hope they get over these distractions and turn their attention back to innovation."
Posted October 21, 2015 in: Event by MNVC
---